RABBI JACK P. PASKOFF
MESSAGE FROM THE RABBI:
June 23, 2017
Dear Friends:
The Rabbis of old weren't fools lacking contact with the realities of daily life. Quoted in Pirkei Avot, Rabbi Eliazar ben Azariah said that if there is no [bread], there is no Torah. Did he actually mean physical sustenance, or could this be bread as in the euphemism for money? The reality is that teaching of Torah depends on making sure that some of our more fundamental needs are met. This Sunday is our annual congregational meeting. It is a chance for us to reflect on some of those fundamentals including governance and budgets. We need your input on these matters. Please join us for breakfast at 9:30, with the meeting starting at 10. This includes discussing a bylaws revision, the budget, the election of officers and board members, and the naming of our "Congregant of the Year."
Some of my greatest insights come to me during the adult classes I teach and facilitate here. Last Saturday, we examined Psalm 90, along with other passages from the Psalms. (Click here for one translation.) This particular Psalm has some problematic verses for me. My theology is not one of an angry God. Nevertheless, there are some passages in the Psalm that inspire me and challenge me. What does it mean to count my days? Even more importantly, what does it mean to make my days count? The end of the Psalm speaks about experiencing God's graciousness, and knowing that the work of our hands will have lasting value. Isn't that really a prayer we all share? Even before we get there in the Psalm, though, we find the notion of "from everlasting to everlasting," or, as it says in a more modern translation, from eternity to eternity. What is this notion of eternity? In the world of science, we speak of a Big Bang, a moment when the world came into being. Of God, we say hu hayah, hu hoveh, v'hu yihiyeh, as in Adon Olam. God was, God is, God always will be. Even if our scientific notion of the world has a beginning, and a likely end, what do we learn from this religious notion of eternity? How can we even begin to understand it? What does infinity mean to a being that is, by definition, finite? At our TaNaCH Study session, we were forced to acknowledge that this is a mystery we may never understand. We observed that many things that were once mysteries have now been solved, or at least understood, to which we added that there never seems to be a shortage of new mysteries. So what does it mean to live within the mystery? In that, don't we understand part of the role religion plays in our lives? The wonder of Judaism is that it speaks to us of both the worldly and the other worldly, the here and now and eternity.
In Mishkan T'filah, our Siddur (prayer book), there is this piece by Adrienne Rich: "Freedom. It isn't just once to walk out under the Milky Way, feeling the rivers of light, the fields of dark—freedom is daily, prose bound, routine remembering. Putting together, inch by inch the starry worlds, from all the lost collections."
May this Shabbat help us find our place in eternity. Shabbat Shalom u'm'vorach. Have a Shabbat of peace and of blessing.
Sincerely,
Jack P. Paskoff,
Rabbi
Week of June 23, 2017
This Week's
TORAH PORTION:
Chukat
Numbers 19:1-22:1
The Eternal One spoke to Moses and Aaron, saying: "This is the ritual law that the Eternal has commanded: Instruct the Israelite people to bring you a red cow without blemish, in which there is no defect and on which no yoke has been laid."
LAST WEEK'S
MESSAGE FROM THE RABBI:
June 16, 2017
Dear Friends:
I hope to see many of you for Shabbat dinner and services in the park tonight! White shirts, please. Bring your own dinner or enjoy a barbecue, courtesy of Brotherhood.
Last week, I wrote about the timelessness of the core teachings of our tradition. This week's parasha (Torah portion) is a perfect example of that. Presented with the possibility of a wonderful future, how many of us have, at one time or another, failed to achieve it, paralyzed by fear and feelings of inadequacy? Presented with a land flowing with milk and honey, how many have ended up instead in the wilderness for eternity, feeling that we could never be up to the task? How many things have we failed to learn, how many chances have been lost because we saw ourselves as being as puny as grasshoppers standing next to giants when challenges arise? If we accept the Torah's view of this reality, at least 10 out of 12 will stay stuck.
From the Rabbi
ABOUT ME:
Welcome everyone!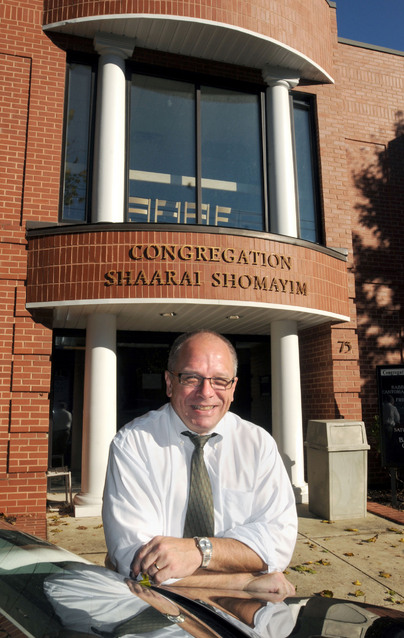 Let me tell you a little about myself. I was raised in suburban New York where my family belonged to a Reform congregation. From the time I was in high school, I was headed toward becoming a rabbi. Along the way, I did a great deal of work in youth groups and Jewish camping, serving on the staff of our Reform movement camp in the Berkshires.
I graduated from Brandeis University, and then spent my first year of Rabbinical School in Jerusalem, before returning to the Hebrew Union College-Jewish Institute of Religion, New York campus. I was an intern at Temple Judea of Manhasset, where I met Risa. We've been married since 1986.
I also served student congregations in Bradford, PA and Brooklyn, NY. After I was ordained in 1988, I became the associate rabbi at the Anshe Emeth Memorial Temple in New Brunswick, NJ. I spent 5 years there learning and growing and completed a unit of CPE (Clinical Pastorial Education) to hone my skills in dealing with illness and grief. My son, Ari, was born there in 1989.
After 5 years, it was time for me to move to a congregation of my own. We moved here to Lancaster in July of 1993, and have been here ever since. Our family grew with the birth of Gadi in 1994.
We are pleased to have grown along with our congregation, and I continue to try my best to reach out to our congregants and to the community at large, focusing my efforts on education for people of all ages and on Tikkun Olam (our efforts to repair the world). I am also especially proud of the music program we have developed at Shaarai Shomayim.
I enjoy getting to know our congregants, and would look forward to meeting people who are new to the congregation or community. Just give me a call (717-397-5575) or send me an e-mail.
Shalom!
Jack P. Paskoff
Rabbi
Wed, June 28 2017 4 Tammuz 5777