RABBI JACK P. PASKOFF
MESSAGE FROM THE RABBI:
July 28, 2017
Dear Friends:
I hope you'll all join us tonight to hear reflections about our trip to Kentucky.
"If I've told you once, I've told you a thousand times!" Which parents haven't said those words, in some form, at one time or another? Which child hasn't heard it? Welcome to Sefer D'varim, the Book of Deuteronomy.
The People of Israel have arrived at the borders of the Promised Land. Moses has "raised" them for 40 years, and now they must continue on the journey alone. For 40 years, Moses has taught, pleaded with, cajoled, and punished, when necessary, to keep the people of Israel on a healthy path. Time after time, they have gone astray and disappointed Moses . . . and God. Moses knows this is his last chance to convey his message. He's desperate. He'll do some "remember when," he'll speak to them in both prose and poetry, he'll warn of dire consequences. At the end, all he wants is for the people to observe the covenant. He knows what awaits them if they do, and if they don't. In this book, we'll hear the Sh'ma, we'll be told to love God, and Moses will repeat the 10 Commandments. We read words like "Look" and "Listen," calling us to pay attention. There are blessings and curses depending on our actions. Eretz Yisrael, the Land of Israel, the land that awaits us, is a land "flowing with milk and honey." We can have security and peace, but that existence is fragile.
Perhaps the specifics of the Torah are not all true of our lives today. Nonetheless, the experience is not foreign to us. The literature is rich, and the realities are ours. Once again, I find the Torah's lessons to be timeless and compelling. Our tradition still calls to us, "Listen. Pay attention. Take me seriously. There's a promised land in here for you. It's yours to discover." In Pirkei Avot, in words that our kids know very well because they love a song written using these words, Rabbi ben Bag Bag (son of Bag Bag, ben isn't his first name) said, "Turn it and turn it, because everything is in it."
There's a lot of summer left. Remember what I ask of our Sh'arim kids. Over the summer, read one Jewish book, come to one service/month, fill one Tzedakah can, practice reading a little Hebrew at least once a week, come to camp. (OK, the last one may be a little harder for some.) These are the 5 ones. While we're at it, invite one person in the Jewish community who is not currently a member of our congregation to check us out.
Shabbat Shalom u'm'vorach. Have a Shabbat of peace and of blessing.
Sincerely,
Jack P. Paskoff,
Rabbi
Week of July 28, 2017
This Week's
TORAH PORTION:
D'varim: The Words
Deuteronomy 1:1-3:22
These are the words that Moses addressed to all Israel on the other side of the Jordan.
LAST WEEK'S
MESSAGE FROM THE RABBI:
July 21, 2017
Dear Friends:
Several weeks ago, I wrote about the tension between Jews of the Diaspora (the Jewish community outside of the Land of Israel) and those who live in the Land, between the Ultra-Orthodox, the "Chief" Rabbinate, and their political parties and the rest of the Jewish people. This Shabbat, as we complete this year's reading of Sefer Ba-Midbar (the Book of Numbers), there are also questions about the relationship between Diaspora Jews and those who live in Israel. It seems that 2 ½ tribes decided that their livelihoods could be better served by staying east of the Jordan River, and not crossing over with the others. This angered Moses. After 400 years of slavery and 40 years of wandering, how could there be Jews who would even consider not sharing in the destiny of our people in the land! Nevertheless, a deal was struck. Those of the 2 ½ tribes would fight alongside their brothers to conquer the land, and only then would they go back across the Jordan to live their lives as they had requested. There was a quid pro quo.
From the Rabbi
ABOUT ME:
Welcome everyone!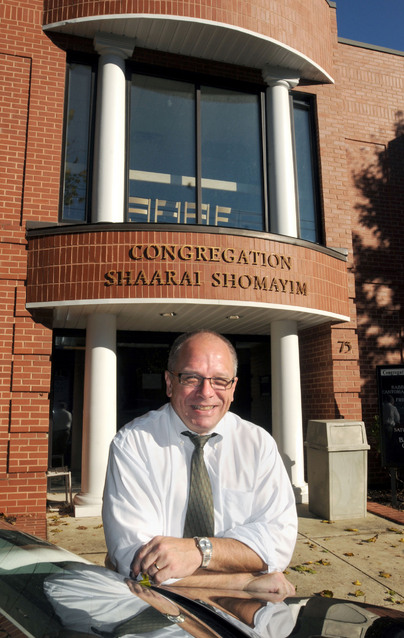 Let me tell you a little about myself. I was raised in suburban New York where my family belonged to a Reform congregation. From the time I was in high school, I was headed toward becoming a rabbi. Along the way, I did a great deal of work in youth groups and Jewish camping, serving on the staff of our Reform movement camp in the Berkshires.
I graduated from Brandeis University, and then spent my first year of Rabbinical School in Jerusalem, before returning to the Hebrew Union College-Jewish Institute of Religion, New York campus. I was an intern at Temple Judea of Manhasset, where I met Risa. We've been married since 1986.
I also served student congregations in Bradford, PA and Brooklyn, NY. After I was ordained in 1988, I became the associate rabbi at the Anshe Emeth Memorial Temple in New Brunswick, NJ. I spent 5 years there learning and growing and completed a unit of CPE (Clinical Pastorial Education) to hone my skills in dealing with illness and grief. My son, Ari, was born there in 1989.
After 5 years, it was time for me to move to a congregation of my own. We moved here to Lancaster in July of 1993, and have been here ever since. Our family grew with the birth of Gadi in 1994.
We are pleased to have grown along with our congregation, and I continue to try my best to reach out to our congregants and to the community at large, focusing my efforts on education for people of all ages and on Tikkun Olam (our efforts to repair the world). I am also especially proud of the music program we have developed at Shaarai Shomayim.
I enjoy getting to know our congregants, and would look forward to meeting people who are new to the congregation or community. Just give me a call (717-397-5575) or send me an e-mail.
Shalom!
Jack P. Paskoff
Rabbi
Fri, July 28 2017 5 Av 5777