RABBI JACK P. PASKOFF
MESSAGE FROM THE RABBI:
May 26, 2017
Dear Friends:
I need to thank all of you. I saw over 50 of us at the rally last Shabbat afternoon. (Yes, I compared my mental list with the Temple directory when I got home!) Standing at the top of the courthouse steps, it was very gratifying for me to look out and see all of you. As much as we were there to speak out against hate, I hope you felt, as I did, that we were standing with family and friends for a noble cause. We were there together as a community.
When God gave us the Torah, it was given in the wilderness, not within any national boundaries. It was simultaneously spoken in 70 different languages, assumed to be all the languages of the ancient world. It was given in such a way that each person would be able to comprehend it according to his/her own capacity so that from the brightest to those who struggle intellectually, from the most noble to the most downtrodden, all would be able to understand it. In short, according to the Midrash, this message was given through our people but not necessarily to our people alone. You can say God wrote the Torah, or wise people did. We might disagree on that. What is undeniable is that with Torah, our people forever changed the world.
This coming week, on Tuesday and Wednesday, we will celebrate the Festival of Shavuot. Traditionally, this holiday is in line of importance with Passover and Sukkot, but practically, coming when it does, without the pageantry of some of our other holidays, this holiday is largely neglected by non-Orthodox Jews. I want to speak up for Shavuot!
First of all, it has at least 4 different names. Maybe you can find meaning in one of these. It is Shavuot, Z'man Matan Torateynu, Chag He-Katzir, and Chag Ha-Bikkurim. It links us to the agricultural cycle, to the Land of Israel, to the Torah, and to our history from our journey to Egypt, through the slavery, to the Exodus, to the entrance back into Israel, the planting of our crops, and to the first harvest. It tells a story of profound loyalty, "Wherever you go, I will go. Wherever you lodge, I will lodge. Your people shall be my people, and your God, my God. Where you die, I will die, and there I will be buried. Thus and more may the Lord do to me if anything but death parts me from you."
And while we've never done it (I keep saying we need to!), the original all-nighter was for a study session on Shavuot. Add to that blintzes, and cheesecake, and ice cream (we eat dairy foods on Shavuot!), and what could be better!
Join us next week on Tuesday night at 7:00 on the small side of the social hall as some of our congregants will be reflecting on their Jewish lives and journeys. Yes, ice cream will be served! And then we will gather again on Wednesday morning at 10:00 for a brief service and Yizkor, the 4 times a year memorial service. I hope you'll share in all or part of the holiday with us.
Shabbat Shalom u'm'vorach. Have a Shabbat of peace and of blessing, and an early Chag Sameach.
Sincerely,
Jack P. Paskoff
Rabbi
Week of May 26, 2017
This Week's
TORAH PORTION:
B'midbar
(Numbers 1:1-4:20)
On the first day of the second month, in the second year following the exodus from the land of Egypt, the Eternal One spoke to Moses in the wilderness of Sinai, in the Tent of Meeting, saying: "Take a census of the whole Israelite company…"
LAST WEEK'S
MESSAGE FROM THE RABBI:
May 19, 2017
Dear Friends:
Yes, this weekly message is very early and very urgent. Aside from timing, I cannot see ending this week, as I always do, wishing you only a Shabbat of peace and blessing, because it is truly a request that we make this a Shabbat of activism and solidarity, a Shabbat to raise our voices and to stand together, as we defy racism and hatred.
From the Rabbi
ABOUT ME:
Welcome everyone!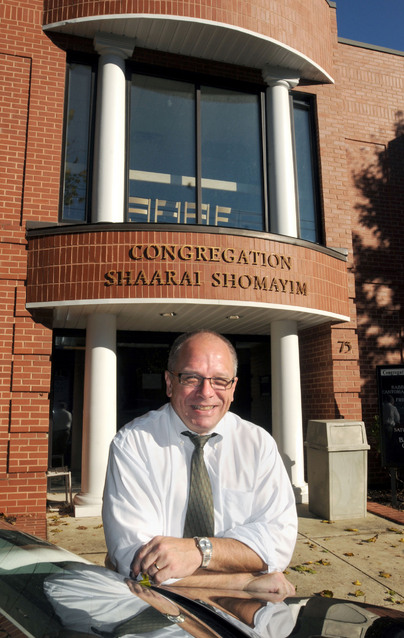 Let me tell you a little about myself. I was raised in suburban New York where my family belonged to a Reform congregation. From the time I was in high school, I was headed toward becoming a rabbi. Along the way, I did a great deal of work in youth groups and Jewish camping, serving on the staff of our Reform movement camp in the Berkshires.
I graduated from Brandeis University, and then spent my first year of Rabbinical School in Jerusalem, before returning to the Hebrew Union College-Jewish Institute of Religion, New York campus. I was an intern at Temple Judea of Manhasset, where I met Risa. We've been married since 1986.
I also served student congregations in Bradford, PA and Brooklyn, NY. After I was ordained in 1988, I became the associate rabbi at the Anshe Emeth Memorial Temple in New Brunswick, NJ. I spent 5 years there learning and growing and completed a unit of CPE (Clinical Pastorial Education) to hone my skills in dealing with illness and grief. My son, Ari, was born there in 1989.
After 5 years, it was time for me to move to a congregation of my own. We moved here to Lancaster in July of 1993, and have been here ever since. Our family grew with the birth of Gadi in 1994.
We are pleased to have grown along with our congregation, and I continue to try my best to reach out to our congregants and to the community at large, focusing my efforts on education for people of all ages and on Tikkun Olam (our efforts to repair the world). I am also especially proud of the music program we have developed at Shaarai Shomayim.
I enjoy getting to know our congregants, and would look forward to meeting people who are new to the congregation or community. Just give me a call (717-397-5575) or send me an e-mail.
Shalom!
Jack P. Paskoff
Rabbi
Saturday, May 27 2017 2 Sivan 5777